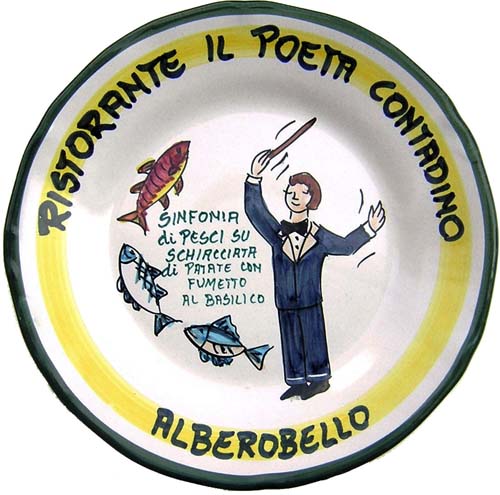 Ingredients for 4 people:
600 gr. seabass, 600 gr. monkfish, 2 redmallets of 100 gr. each
2 artichokes, 2 zucchini, 2 carrots, 200 gr. of potatoes
parsley, basil, extravirgin olive oil, 10 stoned olives
10 cherry tomatoes, 100 gr. extravirgin olive oil, salt, pepper

Directions
Clean the fishes and cut them into fillets.
Boil the potatoes.
Boil the vegetable for 2 minutes, take them out of the water and let them cool down.
With the fish bones prepare the base for the sauce.
In a small round shape container place one of each fillets of fish in order to obtain a portion, then place the vegetables in the middle and flavour with basil, salt, pepper, olive oil and cook in the oven at 170 degrees for 8 minutes.
Peel the potatoes and mush them with olive oil, parsley, saalt, pepper, olives and with a small round shape container and shape the mash into a base for the fish.
In a pan fry slightly the olive oil, garlic, the cherry tomatoes, the basil leafes and the sauce obtained from the fish bones.
On a plate place the potato shape, the fillets of fish and flavour with the sauce.